Covid-19 Information
Si eres beneficiario del el Bono Turístico Viatgem CV, pinchaaquí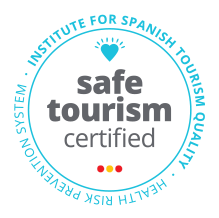 Your peace of mind is the most important thing
Our hotels have been certified by the ICTE (Institute for Spanish Tourist Quality) with the Safe Tourism Certified seal as a guarantee of implementation of the Health Risk Prevention System against Covid-19.
One Shot Palacio Reina Victoria 04
Inaugurated back in 1913, the building of One Shot Palacio Reina Victoria 04 was the first hotel in the city and also its most emblematic. With a classical style and built in the early Twentieth century by local architect Luis Ferreres Soler, the hotel was fully renovated in 2016 following the guidelines of the project carried out by the Alfaro-Manrique architecture firm, using natural materials (wood, iron or ceramic) and reinterpreting its historical character in an elegant and modern way. Celebrities such as Ernest Hemingway, Jacinto Benavente, Federico García Lorca and Robert Capa stayed, wrote or created new projects at the hotel.
In the centre of Valencia
Its privileged location and unique transport connections have always made the Reina Victoria a hotel of reference in Valencia. We are located just 50 yds. from City Hall Square (Plaza del Ayuntamiento) and a stone's throw from Estació del Nord train station, the bullring, the cathedral and the main shopping streets and avenues in the city.
See location
@oneshothotels
Follow us on Instagram